STAY ON TRACK AND CLOSE MORE DEALS

USING REIPRO'S 10-STEP WORKFLOW SYSTEM
10-Step Workflow System
REIPro is the software that is revolutionizing the way real estate investors do business. It was designed for New and Experienced Investors and Agents who need a complete system from finding leads to closing them. REIPro is the world's first ever real estate investor software that walks you through the entire buying and selling process, step-by-step, regardless of what real estate strategy you're working. It's simple to use, clean and delivers the most advanced technology ever created for real estate investors.
Get Started For Free
Research Vital Information
All of the information you need about any property is right at your fingertips. Physical Property Characteristics such as bedrooms, baths, square footage, lot size, build date, Tax Info, Sale Dates, Mortgage Amounts, Lien Holders, Loan types, and much more are available with the simple click of a button.
Get Started For Free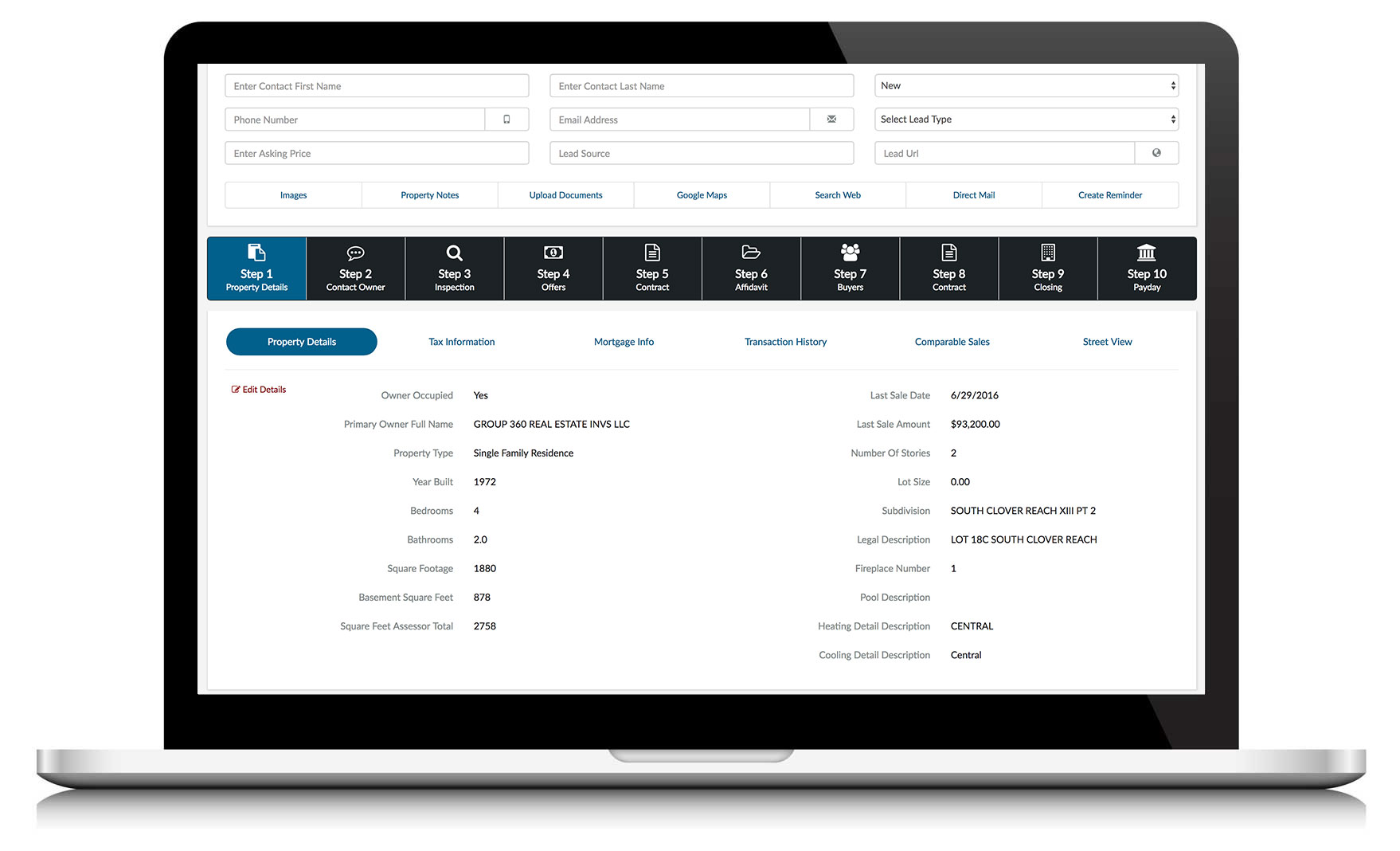 Real Comparable Sales
Comparable Sales that show Actual Sold Amounts (Not Estimated Values) Addresses, Subdivisions, Bedrooms, Baths, Square Footage, Year Built, Distance from Property and Averaged Cost Per Square Foot. Quickly Determine the After Repaired Value and Print a Comparable Sales Report.
Get Started For Free
Contact Owners Faster
Unparalleled People Finder and Phone Search Capability lets you research the owners name, possible family member names, approximate age, deceased status and phone numbers including real time cell phone numbers.

You'll be miles ahead of the competition when you have direct access to the owner, and REIPro's comprehensive cache of phone scripts, property owner questions and a direct mail marketing system is at your fingertips to help you get the results you need more efficiently.
Get Started For Free
Make Multiple Types of Offers
For the first time ever, you'll be able to make multiple types of offers right inside REIPro. Give sellers more options... from paying cash or structuring a creative financing offer to maximize your profit potential, making multiple offers is the secret weapon to building wealth in real estate.

Print Offers with our Offer Letter Templates or Create your own.
Get Started For Free
Don't Postpone Success, It's Right In Front of You!
Get Started Right Now